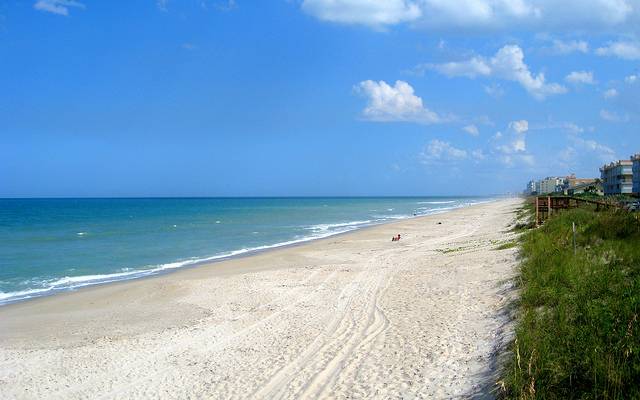 The City by the Sea
Get to Know Atlantic Beach
Atlantic Beach is a small, historic community home to two miles of white sandy beach, museums, food, and culture. An historically significant area, Atlantic Beach was discovered to be one of the oldest permanent native American settlements in North America. Primarily a tourist area until the early 1900s, the completion of a railroad station that connected Atlantic Beach with the rest of Florida allowed tourism to flourish.
The Continental Hotel, which housed close to 300 guest rooms, was built close to the beach and created numerous jobs and revenue for the town. Painted bright yellow with green blinds, the hotel was designed with a luxurious flair inside for guest enjoyment. On the grounds, guests could enjoy activities such as a 9-hole golf course, dance pavilion, fishing, tennis, and horseback riding.
With the onset of World War I the town experienced a lapse in revenue as tourists were afraid to visit the coast, but once the war was over land began to sell again and the town once again continued to prosper.
Small businesses began to settle rather than visit seasonally and eventually the area incorporated as a Town in 1926. For a closer look inside the history of Atlantic Beach, you can now visit the Beaches Museum & History Park which frequently hosts art festivals and concerts.
Activities for All
With 65 acres dedicated to parks such as the Dutton Island Preserve, Atlantic Beach is the ideal location to rent a vacation villa. Within these parks can be found a trove of activities including skateboarding, camping, fishing, hiking, tennis, and a number of many others for every age and area of interest.
Artwalks take place on the third Thursday of every month from 5-9pm where Atlantic Blvd and the ocean intersect. This monthly event is free to the public, hosting over 55 local artists, who travel from all over to participate. Here you can view and purchase hand-made jewelry, art, and other wares to take back as a souvenir of your time on the Florida coast.
Foodies will delight at the Wednesday Market. This weekly farmer's market allows you to sample local offerings such as fresh produce, breads, and sweets. Each week a different type of bread is featured and made fresh with organic ingredients on the day of the market. Cindy's Bakery, Alvarez Farms, and Southern Roots Herbal Apothecary are only a few of the vendors that frequent this great gathering. Music is also provided by local artists to create a fun and carefree ambiance while you smell, taste, and shop. For a relaxing experience that is truly unique, try the One Ocean Spa, which offers a signature Seashell Massage, which pays homage to the Atlantic Ocean while easing away stress.
Good Eats
There's something to please any palate at Culhane's Irish Pub and Restaurant, where you can bring your four legged friends to dine on the patio. Sip from your choice of 26 draft beers and 42 whiskeys while you feast on authentic Irish cuisine. Items as Reuben Egg Rolls and Scotch Eggs aim to please. Their recipe for the Guinness Beef Stew is so delicious, it is featured in television personality Guy Fieri's cookbook!
Sunset Pier Park
For a perfect way to end a day of fun in the sun, eating, and shopping, visit Sunset Pier Park to watch the sun drift below the horizon. Receiving a perfect score on Trip Advisor, this site truly lives up to its name.